Flue tower installation for Microsoft, Grange Castle.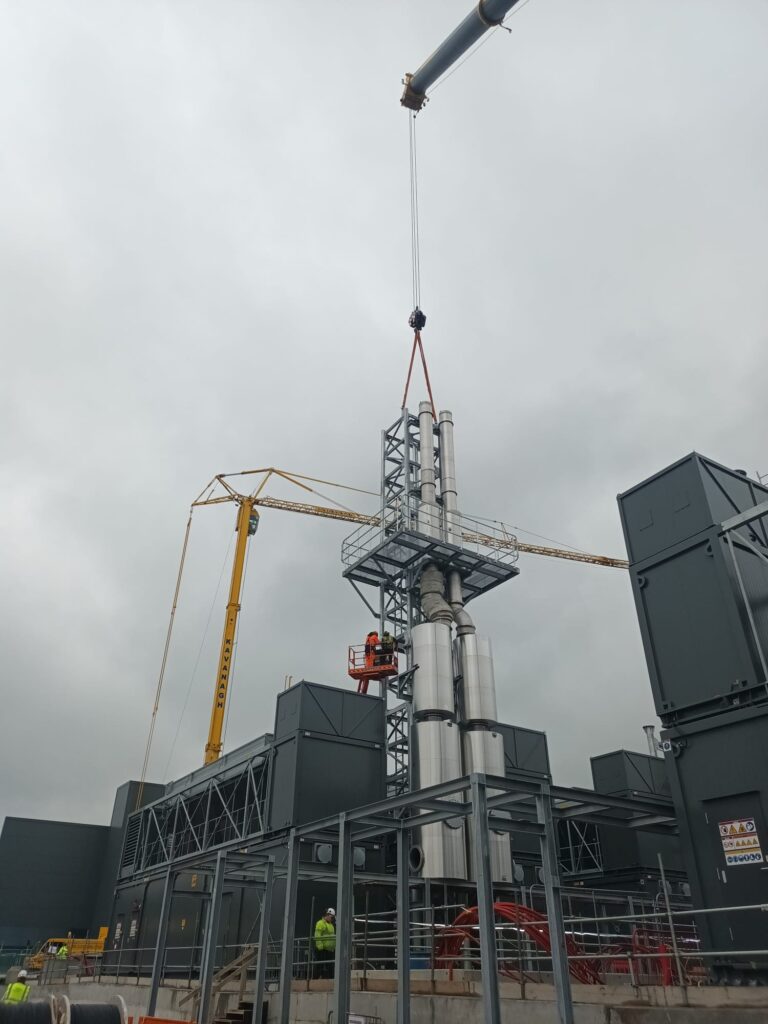 New roof access in Dunnes stores Ashbourne, County Meath.
Safe access to plant and machinery in Microsoft, Grange Castle
Roof Access Dunnes Stores Tullamore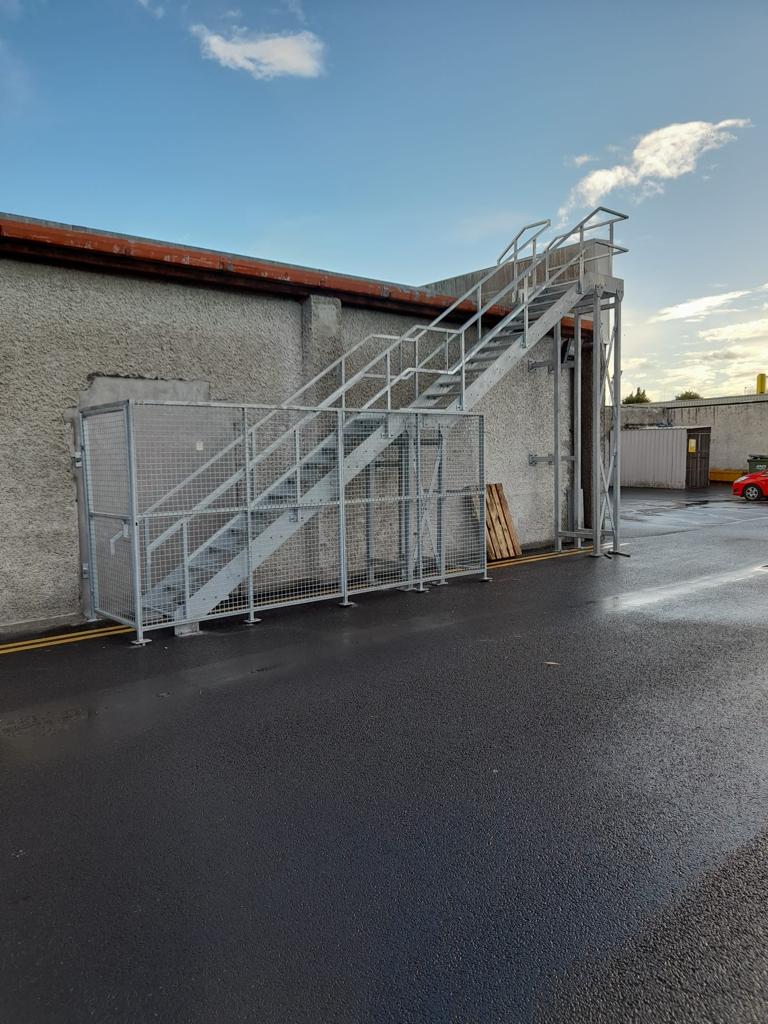 Roof Access Dunnes Stores Navan
Roof Access Dunnes Stores Swords Rathbeale
Roof Access Dunnes Stores Newbridge
Safe access to roof in Dunnes Stores, Annandale, Belfast
Microsoft DUB 3 Crane support platform.
This crane support platform was taken from design concept to completion
With a lot of critical factors built in to allow for load distribution, weights and compatibility with the crane as well as placing the loads through the roof and onto the supporting structures underneath.
Cyrille (our design engineer) is now working on a similar platform for DUB 2.2.
New Tipping Skips
Recent additions to our waste management systems.
We already use tipping skips, so we added 3 new ones To help keep the
factory floor and around the saws as Clean as possible.
The skips are very tidy and maneuverable which means They can be placed
easily with the forklift and removed Easily when full.
Supplied by Dermot Redmond Engineering, Bunclody info@DRE.IE

Recent roof access fitted in Dunnes stores, Oakleaf, Clonmel.
Flue towers for Dub 13, Microsoft Grange Castle.

Work is progressing well in DUB 13 with access to the Generators and Support steel for mechanical / Electrical services complete.
Galco Trial Assembly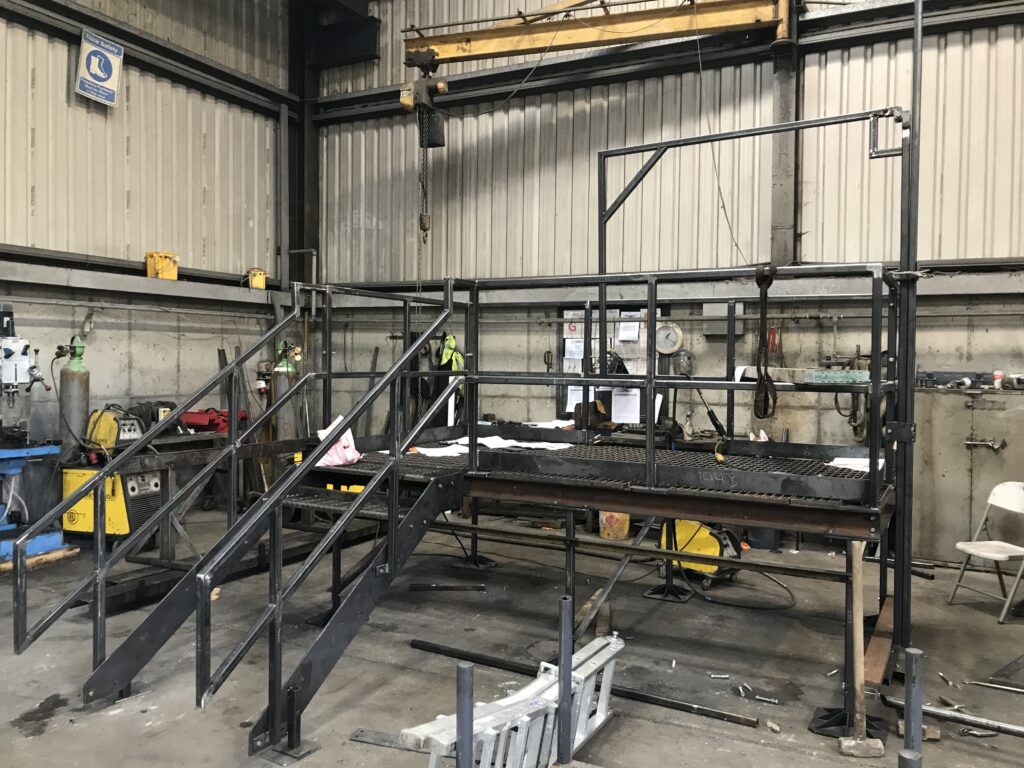 Fabricated platforms, ready for delivery to Galco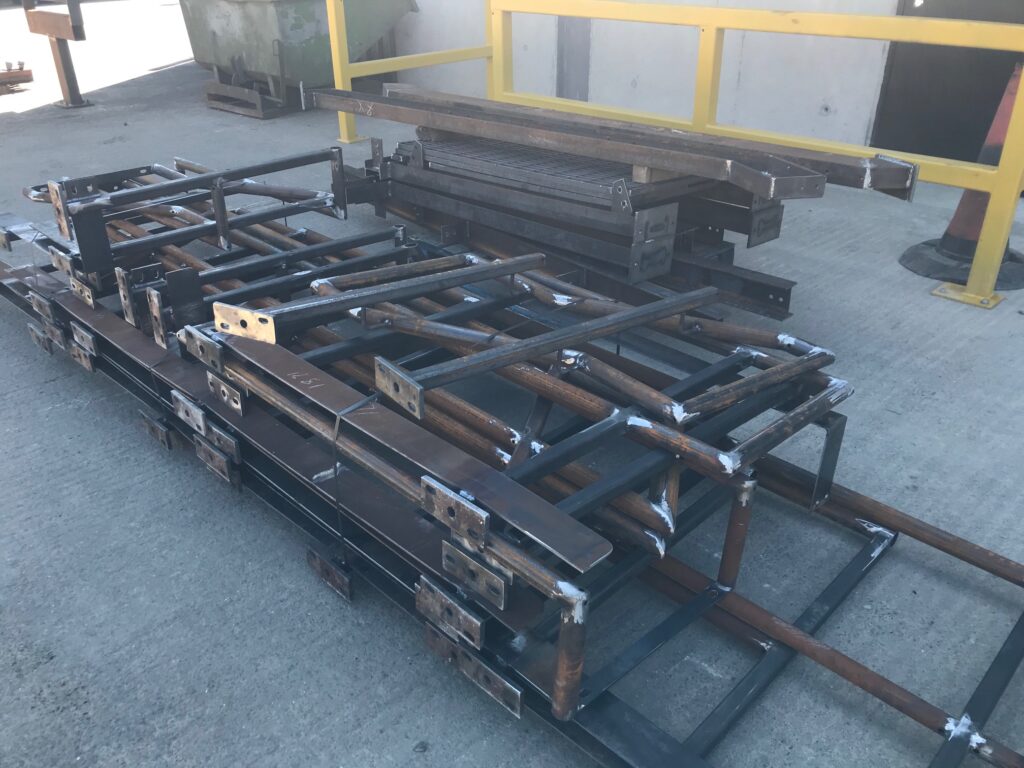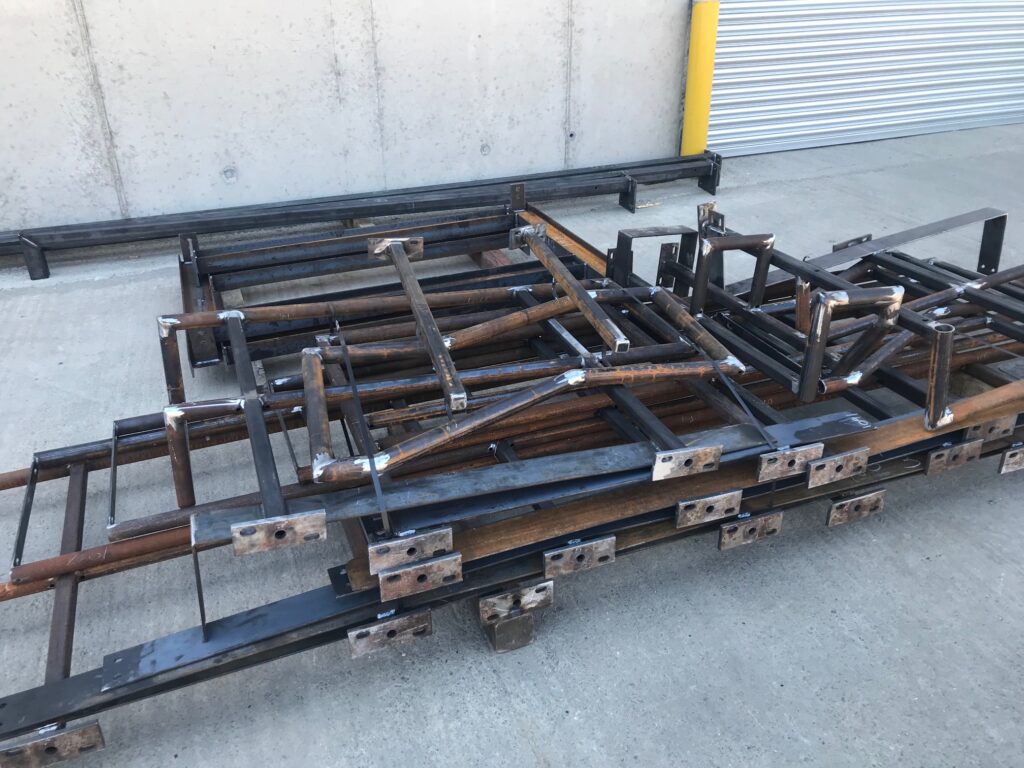 Another load for Galco Waterford,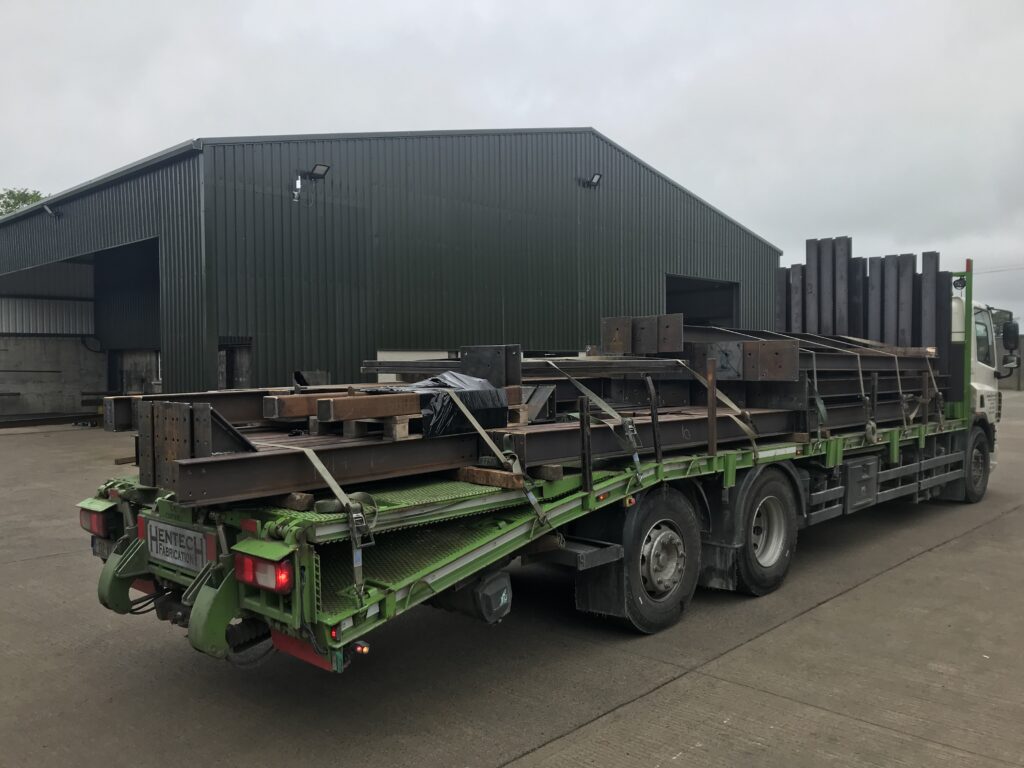 From Fabrication and trial assembly to Delivery to Galco.
Delivery from Galco and Site Erection
Linkedin Project
Linkedin, Wilton Plaza. Dublin
Hentech were contracted by Flynn Management and contractors to
Supply and fit
Covered walkways with steel structure and polycarbonate roof
Access doors.
Planters.
Stainless railings
Kavanagh Mansfield structural engineers were engaged by Hentech to provide
Design support.
OCA were the Architects on the project and Malachi Cullen consulting engineers
Were the clients design engineers.
Plastic solutions supplied Hentech with the polycarbonate and fixings for same.
All steel was Galvanised by Galco Waterford and the finish was a polyurethane
Paint supplied by AIC in Tallaght.
Daniela DaCosta and James Meegan Managed the project for FMC with Matt O Kane
Looking after the commercials.
Recent upgrades at our Factory
New Facilities added at our premises in Ballymurn, Wexford
We have carried out some upgrade works between lockdowns in 2020 and 2021.
We made contact with Dave Coffey from Irish Cranes and with his help and advice we selected a new Gantry crane with 5000 KG capacity and 16m span. This was fitted using Kavanagh crane hires assistance and is now tested, certified and fully operational. The crane controller is a hand held remote unit.
Roy Coleman from Redstone training carried out a comprehensive training course with all the staff to ensure everyone is up to speed. All staff are currently trained on the existing 3 cranes but with the new controller and different configuration it was decided to get Roy back.
The existing Machine shop and welfare buildings have been revamped. We added in a meeting room and training room to compliment the recent upgrades to the canteen / drying room and Toilets. The old building was replaced with new steel and sheeting and new mass concrete walls. Des O'Connor did a very good job on the concrete walls and Nigel Tomkins did the steel erection and sheeting to a good finish.
The meeting room and training room were built by Tom O Shea carpentry and all the electrical works were done by Anthony Doran electrical. All floors and drainage works were carried out by Michael Doyle ground-works. The roller shutter door was supplied and fitted by Barry Hughes. All alarms and cameras are by John Joyce security. Painting and decorating was carried out by Paddy O Regan painting contractor. All I.T. works were by Ken Hayes who looks after our computer systems.
David Coffey, Irish cranes. (086) 262 7161
Roy Coleman, Redstone. (089) 213 7276
Des O Connor. Concrete works. (087) 062 5176.
Nigel Tomkins. Steel erection. (087) 142 7386.
Ton O Shea. Carpentry. (086) 156 9799.
Anthony Doran. Electrical. (086) 156 9799.
Michael Doyle, Ground works. (087) 674 4664.
Barry Hughes. Industrial doors.
John Joyce Security.(087) 251 4485.
Paddy O Regan. Painting and decorating. (086) 076 2121.
Ken Hayes. Kens Computer Clinic. (087) 299 4988.
Many thanks to all involved, Work went well and finishes were all good.
Pier 2 Roof Dublin Airport.
Safe access to plant and machinery including fire escape walkways.
We were engaged by Flynn Management and contractors to provide safe access and fire escape walkways to the roof area in Pier 2 Dublin airport.
We have completed a lot of work on the upgrades in this area over the last couple of years. The DAA have been carrying out a major upgrade to the Pier 2 underpass as well as installing new plant and machinery on the roof.
Dunnes stores, Northside shopping centre plant access
Technological University Dublin – Fire Escape Stairs.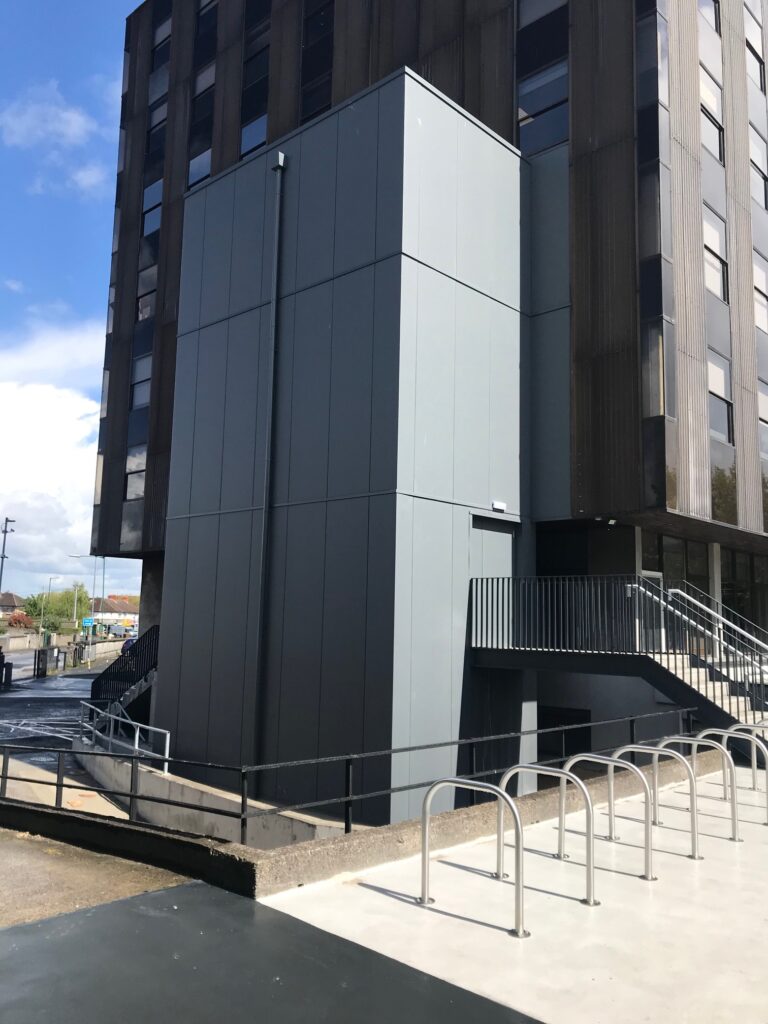 New jigs for Galco Waterford .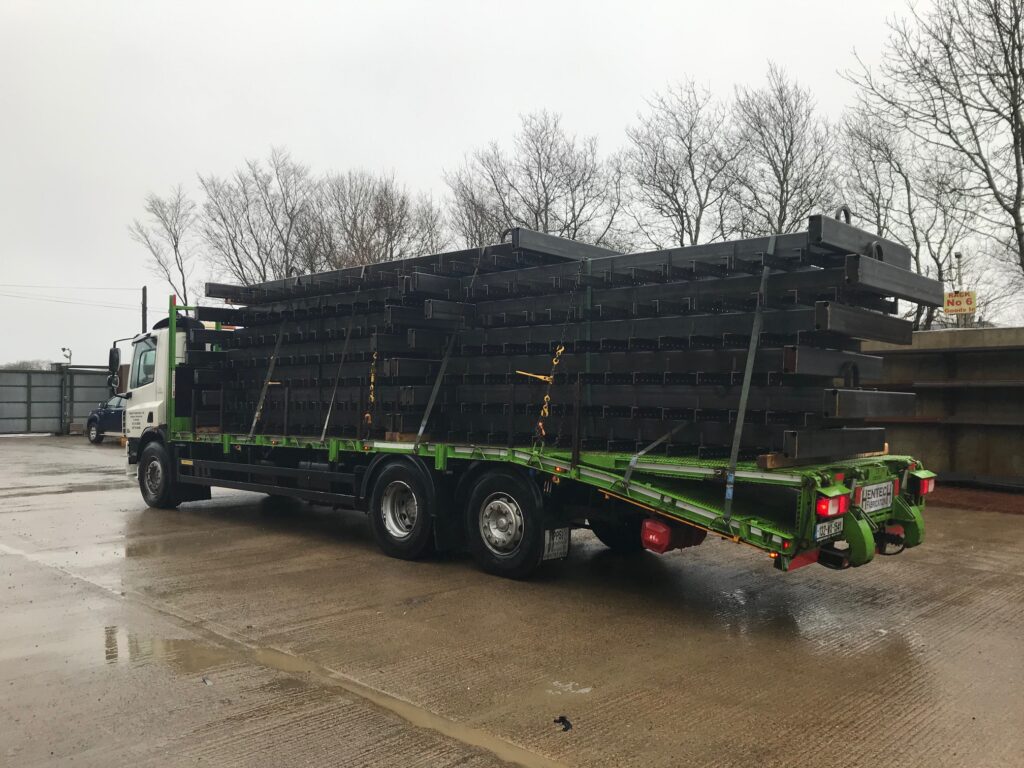 Galco Waterford are carrying out major refurbishment works over the next 6 weeks and will have an improved capacity when complete.
They ordered new jigs for suspending the products being galvanized. These were delivered as ordered.